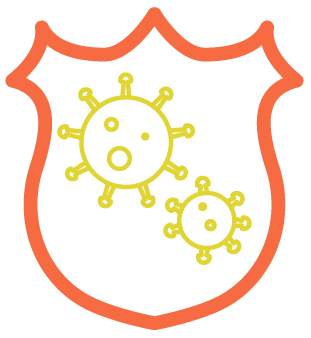 We are taking your safety serious—very serious.
Bring a mask. Although it's not required for outdoor events of our size, we STRONGLY urge attendees to put on their mask when in close proximity to others.
In the Garden, if at any time you feel crowded, please enjoy the show from our virtual stream (a bonus with your ticket) or visit a participating business where you can watch the live stream.
Sanitation stations will be placed throughout the venue.
When enjoying the Sidewalk portion of Fiesta, please remember that masks are required if you enter a business.
 While vaccinations are not required, we STRONGLY urge you to get vaccinated. We are gladly providing a vaccine clinic on Pier Plaza, free to all, and in fact

we'll give you a free ticket into the Garden if you show proof you were vaccinated at our clinic that day

by showing your official vaccination card at the ticket check-in.
We will be sanitizing and cleaning all heavy-touch surfaces frequently. Still, we encourage guests to sanitize frequently and wear a mask when standing in line ordering from a vendor or shopping at exhibitors.
Most importantly, if you have been recently exposed to someone who tested positive or if you have symptoms (even if they are mild), please stay home. We care most about the safety of our guests. You will receive a free stream of the concerts and we want to be sure to minimize the spread of COVID.
We are a Beach Cities Health District "Safer in the South Bay" approved event. With that, we are following all COVID-19 restrictions and guidelines for larger events. This includes:
Regulating capacity (the Garden)
Removal of crowded booth areas
Implementation of QR code ticketing and check-in
Sanitation stations
A virtual stream of Garden content for those who want to avoid the crowds
Fewer food operators to avoid crowded eating areas
The Hermosa Beach Police Department has provided safety guidance and will have a visible presence at our event. We will also have a heavy security presence throughout the Garden to ensure a fun and safe time for all. If you plan to attend, please ensure that you come with the best of intentions, drink responsibly, and report any suspicious behavior to our law enforcement.