Parking at Hermosa Beach can be challenging on a normal summer weekend, but during Fiesta, local parking is pretty bleak. For this reason, we provide remote parking and shuttle service to Fiesta. We strongly encourage all attendees to consider alternative modes of transportation for Fiesta. Due to street closures, driving down Pier Avenue will be slow and traffic will be redirected into the residential neighborhood. Residential parking is 1 hour only unless permitted. Again, please consider your choices when planning your visit to Hermosa.
PUBLIC TRANSPORTATION
It is quite easy to reach Hermosa Beach by bus.
Beach Cities Transit (operated by Redondo Beach) includes Route 109 (in red) which traditionally comes through Hermosa and will drop visitors nearby the Carnival / downtown area. Park remote and ride down for $1 per passenger. Below is an image of the Detour for Fiesta Hermosa and click here for more details of the exact stops.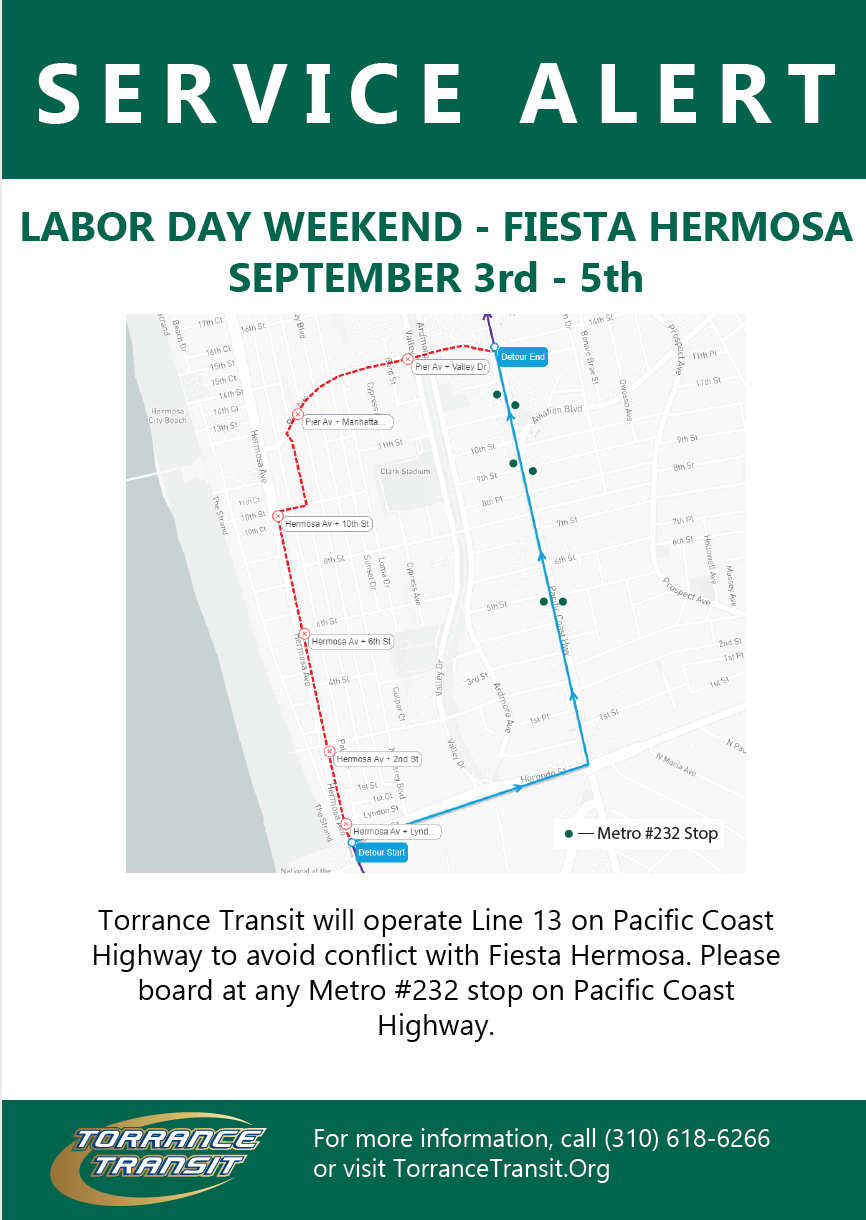 Torrance Transit (operated by Torrance) offers line #13 that usually directly drops in Hermosa Beach. See map for detour. The detour route for Torrance will be.
The following BUS STOP location will be CLOSED on Hermosa Ave and Pier Ave both E/B and W/B:
Hermosa Ave:
Lyndon St, 2nd St, 6th St, 10th St, 11th St, Yacht Club Way
Pier Ave:
Manhattan Ave, Valley Dr.
Passengers may board and alight on PCH at any Metro #232 bus stop.
BICYCLE CORRAL
The valet bicycle parking corral is back and will be placed in a more traditional location—on the beach between 10th and 11th just south of the Beach stage. Please respect fellow pedestrians when standing in line and please use caution when crossing traffic. The bike valet will be open 10am - 6pm daily.
How about rent a bike to get here!? Beach E Biking offers a delivery service and remote parking.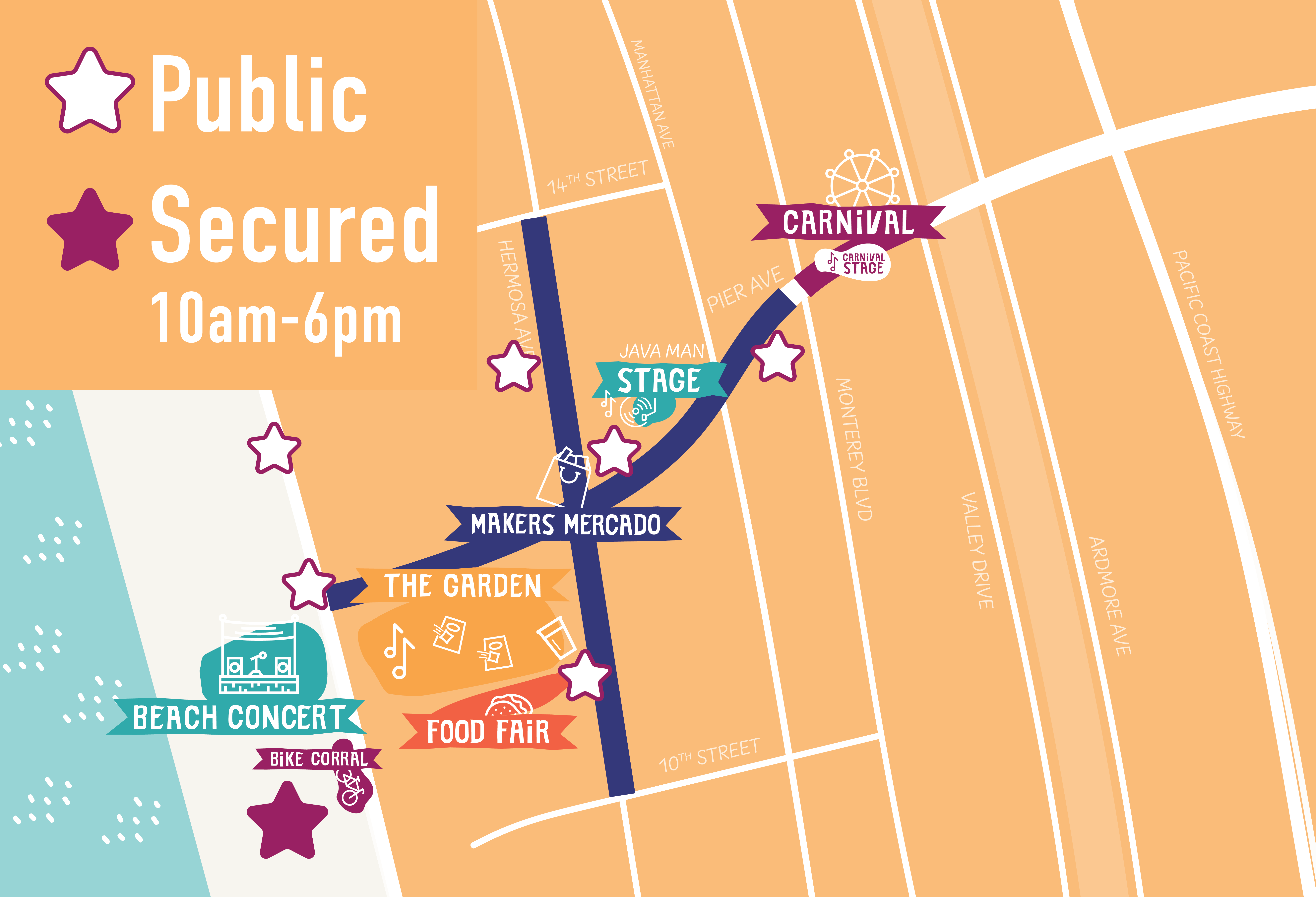 RIDE SHARING
Due to parking limitations and concerns for drinking and driving, we heavily encourage attendees to ride share. We have a designated Ride Share area just South of the Makers' Market on 10th Street and Hermosa Avenue in the median area. If you intend to enjoy any adult beverages, we URGE YOU to please avoid driving and simply grab an Uber or a Lyft and come have a good time. Law enforcement will be heavily present and Hermosa has zero tolerance for drunk drivers.
FREE PARKING SHUTTLE BUSES
The Buses will run between the Northrop Grumman Lot and the Fiesta Hermosa from 10:00 am to 10:00 pm on Saturday, Sunday and Monday, but the frequency of buses reduces from 8:00pm to 10:00pm. There is a stop first at Pacific Coast Highway near the Carnival and then another stop at 10th and Hermosa Avenue closer to the beach. We heavily recommend getting off at the first stop and moving down hill to enjoy Fiesta conveniently. Yes, you can ride the shuttle bus from the Hermosa stop to the Pacific Coast Highway to enjoy the and carnival.
The address of the Northrop lot is 1 Space Park Drive, Manhattan Beach CA 90266. It is Building M5 facing Aviation Blvd., just north of Marine Ave.